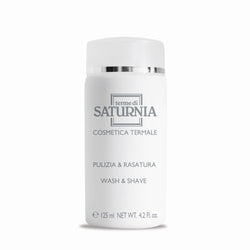 A dual action purpose treatment for men for face cleaning and shaving. Recommended for men who have redness or irritations after shaving or for those who wants to simplify their skincare routine. Transforms shaving into treatment while gently but effectively cleaning the skin, protecting the sensitive skin from burning and becoming inflamed or red.
Directions:
As a cleaning cream, use morning and night on wet skin, then rinse with lukewarm water. As a shaving cream with razor blade, it is suggested to proceed to shaving before rinsing. For men with dehydrated skin, follow up with the Spa Moisturizing Cream as an after-shave for more comfort.
Active assets:
BIOGLEA™: moisturizing, exfoliating and balancing.
Lenitive Oily Buds Caper extracts: a powerful soothing agent to prevent itching, burning feeling, redness and irritations. Sweet Almond Oil: an emolient effective in bringing back elasticity.
Rosemary Concentrate extract: rich in anti-oxidants.
Bisabolol: an active used to control redness.
Vitamin A Palmitate and E Acetate: prevents premature ageing by counteracting free-radicals.
Hamamelis Distilled Water: antiseptic and astringent to refine pores.
Aloe Vera Gel: anti-inflammatory and calming.
Benefits: Effective for daily cleansing of male skins, even for more problematic. It transforms the shaving into a cosmetic treatment. It prevents and controls redness and irritations.
Paraben / Allergen-free skincare.
Volume: 4.23 fl.oz