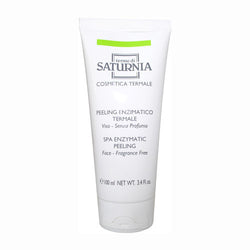 Spa exfoliant formulated to remove dead skin cells and impurities for clear and soft skin. A no grain / scrub for sensitive skins.
Directions:
Apply on cleansed face and neck, avoiding the eye contour area, with circular massage. Leave on for 10 min then rinse off.
Suitable for:
It is recommended in the Deep Cleansing Phase of all the Facial Treatment Procedures and at home to replicate the skin clearing benefits of a facial treatment.
Active assets:
BIOGLEA™: moisturizing and balancing.
Acerola fruit extract (Indian cherry): rich in vitamin C, a radiance boosting agent stimulating cell regeneration.
Onopordum acanthium extract from biological culture: reinforces the natural barrier of the skin. On scarred, wounded skin, it is proven to help the healing process by increasing the progressive skin barrier renewal for faster cell regeneration.
VC-IP: ascorbic acid lipo-soluble derivative, it is transformed into vitamin C in the skin and stimulates collagen synthesis while inhibiting melanogenesis (hyper-pigmentation) .Therefore it has a significant whitening action especially on skin blemishes.
Benefits: It provides a smoother, softer and more radiant skin.
Allergen / Paraben - free skin care.
Volume: 3.4 fl.oz.