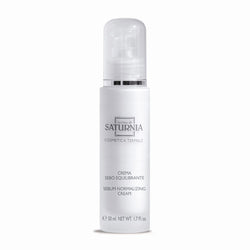 Regulating cream to balance sebum production for oily and acne-prone skin types. Formulated to act like an air conditioning system for the skin to help it breathe. Excellent purifying properties for excess shine, irritations, redness and inflammations. Refines pores, eliminates shine and prevents breakouts. For men and women alike.
Directions:
Apply AM/ PM after cleansing with
Spa Cleansing Foam
.
Suitable for:
Designed for oily to combination skin types.
Active assets:
BIOGLEA™ : moisturizing, balancing and exfoliating.
ZINCIDONE®: combines the decongesting effects of zinc with moisturizing picolic acid (PCA). Helps to inhibit the action of the oil-loving 5-alpha-reductase enzyme.
Vitamin E acetate: antioxidant.
Sweet almond oil: skin softening, nourishing and soothing. Rich in proteins, mineral salts and vitamin A. Excellent for sensitive skin types with powerful anti-inflammatory action.
Benefits: Inhibits 5-alpha-reductase action, which causes excessive sebum secretion, Great make-up base, Anti-inflammatory action to soothe signs of redness and irritations, Perfect for high-humidity and summer skin and all around oily skin types or skin with a tendency to shine.
Allergen / paraben-free skincare.
Volume: 1.7 floz bottle