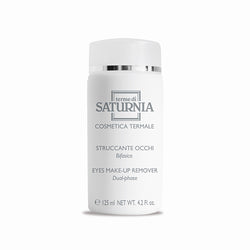 Designed to remove eye makeup even waterproof mascara while soothing and hydrating the eye contours with an exclusive bi-phase formula.
Directions: Shake before use to mix the two phases. Apply on a cotton pad and glide over lids and lashes. Repeat if necessary until complete removal of make-up.
Suitable for: Suitable for all types of skin.
Active assets: 
Hydro phase
BIOGLEA™: an exclusive from Terme di Saturnia, gently exfoliating, moisturizing and balancing active.
Rosa Damascena water with regenerating, antiseptic and cooling action.
Lipo phase
Refined olive oil: emollient for dry and sensitive skin. Nourishes with antioxidants.
Sweet almond oil: promotes skin elasticity.
Vitamine E acetate: powerful antioxidant.
Benefits: A gentle refreshing, soothing and decongesting treatment for the eye contour area. It gently removes any trace of make-up and keeps skin natural moisture level safe.
Volume: 4.2 fl.oz