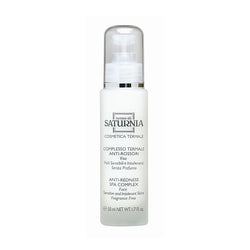 Soft and Fluid texture emulsion formulated to be quickly absorbed by skin presenting redness or irritations. A must-have for sensitive skin suffering from signs of inflammation, irritations and redness.
Directions: Apply in the morning and /or evening on clean face and neck, gently patting. Use as a base under the protective Cream or Nourishing Cream from Terme di Saturnia for added protection and comfort.
Suitable for: Delicate and sensitive even very dry skins which do not tolerate standard anti-aging treatments and which need a protective and restoring action
Active assets:
Ginkgo biloba extracts soothe skin sensitivity while the exclusive complex Pro-Barrier enhances the natural skin's defenses against environmental aggressions.
BIOGLEA™ protects in a very effective way from dehydration with a long lasting action.
In addition, the refined association of plant active principles (aloe, chamomile) with panthenol and bisabolol carries out a targeted clarifying and refreshing action. With natural UVA filters extracted from rice bran for light protection from premature aging.
Benefits: A full-wellbeing treatment for skins very reactive to any solicitation / Effective and long-lasting protective action.
Volume: 1.7 fl.oz bottle