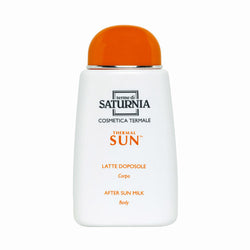 After Sun Restoring Milk - Body
Super-hydrating, soothing and cooling body lotion to restore the skin's natural balance and repair the damage caused by UV rays. A must have beach travel companion to help repair and maintain the skin when exposed to the sun!

Directions: Apply generously after any sun exposure or on for dry skin and sensitive skin as a daily body lotion.

Suitable for: Formulated for all skin types. 

Active assets:
BIOGLEA™: a Terme di Saturnia exclusive active with a powerful balancing, smoothing and moisturizing action. 
Thermal sun: with a combined nourishing, soothing and anti-free radicals action. 
Panthenol: intensely moisturizing.
Coconut oil: protective and soothing. 
Olive oil: soothing and nourishing. 
Mallow extract: calming. 
18 Beta glycyrrhetic acid: an extract from licorice with potent anti-inflammatory action. 
Vitamin A: regenerating. 
Vitamin E: antioxydizing and anti free radicals to preserve the youth of the skin and its elasticity. 
Biosaccharide 1: extended release hydration agent. 
Watermelon extract: provides anti-ageing action while minimizing sunburn appearance on the surface of the skin.
Benefits: Fights against the formation of free radicals, responsible for premature ageing of the skin and prevents peeling. Brings back elasticity.
Paraben / Allergen - free Skincare Volume: 6.8 fl.oz bottle