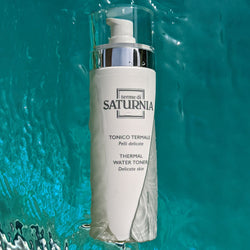 Thermal Water Toner - Delicate Skin
Description:
This lotion made of high performing natural active ingredients is perfect for those with delicate skin. Its combination of antioxidants and protective molecules work to simultaneously purify and protect the skin from future damage. It can be paired with our cleansing milk to complete the cleansing of the face, gently eliminating any residual impurities or on its own to revitalize and gently refresh the epidermis.
Volume 6.8 fl oz spray bottle

Apply to face and neck twice daily after cleansing for best results.
Suitable for: all types of skin especially sensitive skin.
HYDROLIZED ROCKET EXTRACT: Strengthens the natural cellular defenses against free radicals related to stress by increasing the endogenous antioxidant capacity. It is able to soothe and calm irritated skin, improving its ability to recover after stress. Moreover, given its ability to raise the endogenous defenses of the skin, it can be effectively used as a preventive agent against redness. 
ALOE VERA: Serves as a powerful moisturizing and soothing agent– excellent for counteracting skin aging, treating burns and inflammation– with its antibacterial and rebalancing properties.
OPUNTIA FICUS-INDICA STEM EXTRACT: Prickly pear extract is obtained from prickly pear leaves harvested exclusively in Sicily. The gel contained in the inner part of the leaves is traditionally used on the skin as an anti-reddening, emollient remedy that promotes wound healing. A protective shield on the skin's surface is formed after solely a week of use, greatly reducing its susceptibility to redness while also effectively moisturizing the skin.  
This active ingredient is derived from UPCYCLING
PANTHENOL: Provitamin B5 (Panthenol), has a powerful moisturizing and soothing action. It increases the hydration of the skin's surface by regulating trans-epidermal water loss and improving the organization of intracellular lipid lamellae.
AQUA (WATER), ALOE BARBADENSIS LEAF JUICE, POLYGLYCERYL-4 CAPRATE, POLYSORBATE 20, PANTHENOL, OPUNTIA FICUS-INDICA STEM EXTRACT, HYDROLYZED ERUCA SATIVA LEAF, ALGAE EXTRACT *, GLYCINE DI SOJA-CRYSTAL EXTRACT, GLYCINE DI CAPRATE, LITTLE EARTH, CAPRATE, GLYCINE SOJA , BENZYL ALCOHOL, PARFUM (FRAGRANCE), GLYCERIN, CITRIC ACID, SODIUM BENZOATE, POTASSIUM SORBATE.
* Thermal Plankton extract