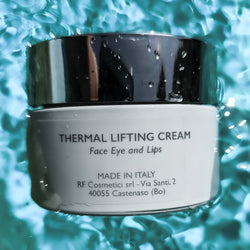 Thermal Lifting Cream - Faces, Eyes, and Lips
Description:
The thermal lifting cream effectively counteracts skin slackening thanks to a pool of algal matrix ingredients capable of exerting a visible tensing effect from the very first applications. Wrinkles and groves are attenuated, the skin regains its firmness, and the oval of the face appears redefined.
Volume 1.7 fl oz Jar


Apply on face and neck AM / PM after cleansing and toning.
Suitable for: all types of skin, especially formulated for skin lacking firmness.
VITAMIN C LIPOSOMES Vitamin C is a powerful antioxidant and inhibitor of tyrosinase, an enzyme responsible for activating the production of melanin. It also increases collagen synthesis.
PURIFIED EXTRACT OF ALGAE COMBINED WITH POLYSACCHARIDES a powerful complex providing a quadruple action: protective, restructuring, lifting and toning in a matter of hours. It forms a very thin relaxing film on the skin (without occluding the pores) exerting an immediate perceptible tightening effect. Used over time, it protects cells by strengthening the skin and connective tissue with antioxidant. It also stimulates fibroblasts to produce collagen . It reduces the depth and length of wrinkles and increases tone, firmness and elasticity.
DMAE DMAE in dermatology is used as an anti- inflammatory and has been documented to show an increase in skin firmness.
LYSINE Lysine is an essential amino acid which is part of the composition of collagen . Along with methionine, it represents the precursor amino acid of carnitine. Lysine is also important as a precursor to an important vitamin, called niacinamide (or Vitamin B3), used for its ability to promote the formation of healthy skin cells. It also helps increase blood flow and oxygenation, bringing radiance and a more even skin tone to the skin. It also help reduce the appearance of wrinkles and tone the skin.
CREATINE Creatine is very effective in stimulating the energy metabolism of cells. Since creatine stimulates both mitochondrial activity and skin protein synthesis, it provides long-term protection from premature aging and environmental stress.
ARGININE Arginine is an amino acid, one of the constituents of the skin's NMF (Natural Moisturizing Factor). It has a moisturizing and elasticizing action, also stimulating the production of collagen.
VEGETABLE CERAMIDES Vegetable ceramides are excellent plant derived ingredient to prevent transepidermal water loss while reducing inflammation
AQUA (WATER), GLYCERIN, CAPRYLIC/CAPRIC TRIGLYCERIDE, GLYCERYL STEARATE, DIMETHYLAMINOETHANOL TARTRATE, CETEARYL ALCOHOL, PEG-100 STEARATE, ETHOXYDIGLYCOL, ALGAE EXTRACT*, HYDROGENATED ETHYLHEXYL OLIVATE, HYDROGENATED OLIVE OIL UNSAPONIFIABLES, CREATINE, NANNOCHLOROPSIS OCULATA EXTRACT, SODIUM LAUROYL LACTYLATE , SORBITOL, PULLULAN, CERAMIDE NP, SODIUM ASCORBYL PHOSPHATE, PHYTOSPHINGOSINE, CERAMIDE AP, CHOLESTEROL, GLYCINE SOJA EXTRACT, DIATOMACEOUS EARTH, CERAMIDE EOP, LYSINE HYDROCHLORIDE (LYSETYHLY-HYDROCHLORINE), LYSETYHLY-HYDROCHLORINE, LYSETYHLY-HYDROCHLORINE (LYSETYHLY) GLYCOL, TETRASODIUM GLUTAMATE DIACETATE, SODIUM BENZOATE, POTASSIUM SORBATE, CARBOMER, DISODIUM EDTA, GLYCERYL CAPRYLATE
* Thermal Plankton extract